One Day Group Hypnotherapy Workshops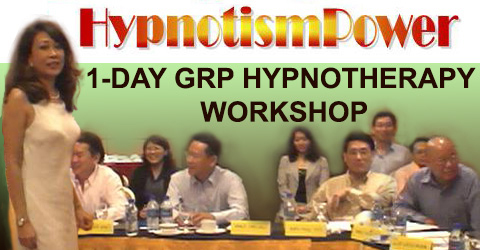 Reach out for some of the most powerful holistic self-healing tools! Group Hypnotherapy Workshops can be packaged for the following individual topics:-
Painless Childbirth
Sports performance
Public Speaking
Speed Reading
Self-confidence
Hypno-Meditation & Self-healing
Stop Smoking
Play Better Golf
Study Better to Excel in the Exams
Stress Management
Programming for Slimming
Sleep Better
| | |
| --- | --- |
| Bad Habits | Stress Related Problems |
| Smoking | Sleeplessness |
| Alcoholism | Depression |
| Obesity | Anxiety |
| Phobias/Allergies | Anger and Tantrums |
| Negative Attitudes | Head pains |
| Drug Abuse | Bereavement |
Write in to request for a workshop and the moment we have enough quorum to warrant a class for a certain topic, we will run that workshop
One particularly popular class is the 1-Day Group Hypnotherapy Programme for 'Stop-Smoking'
HYPNOTISMPOWER.COM'S UNIQUE 1-DAY STOP-SMOKING WORKSHOP
Training Venue: Rivercourt Methodist Church, King Street, Hammersmith, London W6 9JT (Nearest tubes are: 3 mins. walk from Ravenscourt Park tube station, 10mins from Hammersmith tube station)
Date: Day: TBA, based on response for class quorum. Please know that you have to request for the courses and workshops first!

No request, no events!
Day and Time: Saturday: 10am-6pm (8hrs CEUs course)
Fee: £150.00 (incl. course materials & beverage)
WHY QUIT?
Your Health
Nearly everyone knows that smoking can cause lung cancer, but few people realize it is also a risk factor for many other kinds of cancer as well, including cancer of the mouth, voice box (larynx), throat (pharynx), esophagus, bladder, kidney, pancreas, liver, cervix, stomach, colon and rectum, and some leukemias.
Smokers are twice as likely to die from heart attacks as are nonsmokers. And smoking is a major risk factor for peripheral vascular disease, a narrowing of the blood vessels that carry blood to the leg and arm muscles.
Based on data collected from 1995 to 1999, the US Centers for Disease Control (CDC) estimated that adult male smokers lost an average of 13.2 years of life and female smokers lost 14.5 years of life because of smoking.
No matter what your age or how long you've smoked, quitting will help you live longer. People who stop smoking before age 35 avoid 90% of the health risks attributable to tobacco. Even those who quit later in life can significantly reduce their risk of dying at a younger age. You will be taught how to systematically programme the subconscious mind in order to sustain motivation, and how to utilize the great powers of imagery and visualization when striving towards individual goals.
Visible and Immediate Rewards of Quitting
Quitting helps stop the damaging effects of tobacco on your appearance including:
premature wrinkling of the skin
bad breath
stained teeth
gum disease
bad smelling clothes and hair
yellow fingernails
Kicking the tobacco habit also offers benefits that you'll notice immediately and some that will develop gradually in the first few weeks. These rewards can improve your day-to-day life substantially:
Food tastes better.
Sense of smell returns to normal.
Ordinary activities no longer leave you out of breath (climbing stairs, light housework, etcetera.)
THE COST OF SMOKING


The prospect of better health is a major reason for quitting, but there are others as well. Smoking is expensive. At today's rates, a 20-a-day smoker will spend £31,025 over the next 20 years. Holidays you could have enjoyed; savings you could have built up; a home, car or important possessions you could have owned; toys and experiences you could have brought for your children.
Do you really want to continue burning up your money with nothing to show for it except possible health problems? And this doesn't include the higher costs for health and life insurance, as well as the possible health care costs due to tobacco-related conditions.
Health of Others
Smoking not only harms your health but the health of those around you. Studies have shown that secondhand smoke causes thousands of deaths each year from lung cancer and heart disease in healthy nonsmokers.
Help Is Available
With the wide array of counseling services, self-help materials, and medicines available today, smokers have more tools than ever before to help them quit successfully.
For most people, the best way to quit will be some combination of hypnosis, a method to change personal habits, and emotional support. Whatever, HYPNOSIS is the best and quickest method to quit for life!
Chooi-Chin worked successfully with smokers for the last dozen years, probing deep into the client's life history and psychological habit, looking for the cause, garnering the make up of the emotional self-image and then considering the pattern of the physical addiction, all of the components associated with smoking.
No matter what you've done to stop smoking, be it counseling, nicotine patches/gum, pills or inhalers, or even go 'cold turkey', it will do you good to consider that hypnosis can be the best method to quit for you as the testimonies below had attested to it. The wonderful thing about using hypnosis is that the quitting is final!
Smoking Cessation Success Rates
SUCCESS RATE
METHOD
94%
94% of 1000 people stop smoking with hypnotherapy for 18 months or more.
Von Dedenroth, T (1968) American Journal of Clinical Hypnosis
88%
Success with hypnotherapy based on one years' follow up.
Kline, M.(1970) International Journal of Clinical and Experimental Hypnosis
67% - 88%
Published research findings by Watkins, Sanders and Crasilneck and Hall for Hypnotherapy.
*60%
Single session hypnosis using latest relaxation methods
*30%
Suggestion hypnosis only or just listening to cassette tapes.
*29%
Exercise and breathing therapy
*25%
Aversion therapy
*24%
Acupuncture
20%
Nicotine patches + seeing a counsellor
*10%
Nicotine gum
*6%
Will power alone
* as reported by the New Scientist
Hypnotherapy & Self-Hypnosis are the most effective ways to help you quit smoking.
Hypnotherapy identifies the reasons and excuses for your smoking habit to determine a sure strategy to quit.
By teaching you self-hypnosis with simple relaxation skills, something else you can do in a difficult situation in the time it takes to light a cigarette, it provides a real alternative to the satisfaction you get from smoking.
Hypnosis can effectively remove the desire to smoke, and replace it with feelings of calm, control and contentment.
Hypnosis breaks both the habit and the psychological dependency of smoking and nicotine addiction.
Hypnosis is safe, natural and does not use drugs or other addictive substances
What People Say about the Programme:-
This is to thank you, Chooi Chin, for the very effective hypnotherapy you administered -- I have not smoked a single cigarette for over a year. When I came to you last year, I was smoking 40-60 cigarettes a day for the last 40 years.My family and friends are incredulous -- and very grateful to you, as am I.
Sarla Langdon of Markmaid.com, Swansea, Wales, United Kingdom
ONE DAY STOP SMOKING SELF-HYPNOSIS/GROUP HYPNOTHERAPY PROGRAMME AND COURSE CONTENTS
Class schedule details can be obtained after you signed up for the class.
Introduction : Brief History of Hypnotism ' What is Hypnosis? Definition. Benefits of hypnosis.

The Brain and Its System, The Body / Mind Connection and Hypnosis. The Art of Suggestion.

PREPARATION:-

Step I : Focus on goal of Stop Smoking. Identify problems that are to be replaced by this goal - Reasons for Smoking Habit:-

(1) Physiological Need

(2) Psychological Need

Step II : Preparation for Liberation: That first Non Smoking Day, Basic Training - Breaking the Reflex Habits, Advance manoeuvres Psychological Infiltration



Step III : ACTION

Group Hypnotherapy: Stop Smoking Programming
The Ten-Step Self-Hypnosis guideline - Training in Heightened Awareness. Guidance on own positive suggestions to apply goal directions through mind visualisations in hypnosis.
Self-Hypnosis Induction Exercise and Application of Suggestions for Stop Smoking.
Group Hypnotherapy : "Swish Therapy" Technique.
Please read our terms and conditions before ordering or using this website.
To reserve your place on this dynamic Stop-Smoking class in a One-Day Group Hypnotherapy Workshop please go to our eCart

.
HypnotismPower uses the safe, quick and easy to use PayPal for transactions.