COURSES
The following courses and workshops are available just as soon as the quorum for a class is justified. Indicate your interest through the Course Code Numbers. Click on the Course Request Form

. When we have enough requests for the same course, we will expedite you the details of the course.
Special Classes are also conducted for the following specific areas:-
Painless Childbirth
Sports Performance
Public Speaking
Speed Reading
Self-confidence
Hypno-Meditation & Self-healing
Stop Smoking
Play Better Golf
Study Better to Excel in the Exams.
Stress Management
Programming for Slimming
Sleep Better
For more detailed information on our services, scroll right down and please click on each of our links.
Chooi-Chin will be happy to travel internationally to present these programs. If you are interested in having us conduct a lecture, seminar or talk & demonstration for you, please email:- chingoh@hypnotismpower.com

SELF-HYPNOSIS TRAINING COURSE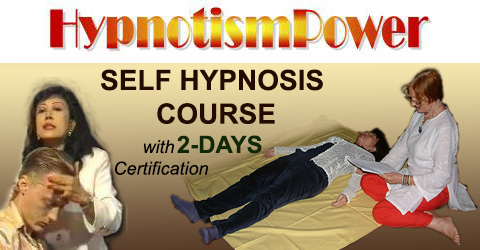 We teach people self-help in motivated self-directed change through our proven techniques of Self-Hypnosis. The benefits are far-reaching as Self-Hypnotists practice the technique to change for the better by eliminating :-
BAD HABITS and STRESS RELATED PROBLEMS
Smoking
Insomnia
Alcoholism
Depression
Obesity
Anxiety
Phobias and Allergies
Anger and Tantrums
Negative Attitudes
Tension Headaches
Drug Abuse
Bereavement
Self-Hypnosis Training Programme
A 2-Day Certification Course
Service Code: AD-02
MODULE I
Training Venue: Rivercourt Methodist Church, King Street, Hammersmith, London W6 9JT (Nearest tubes are: 3 mins. walk from Ravenscourt Park tube station, 10mins from Hammersmith tube station)
Date: Weekend: TBA, based on response for class quorum. Please know that you have to request for the courses and workshops first!

No request, no events!
Day and Time: Saturday: 10am-6pm Sunday: 1pm-9pm (16hrs CEUs course with certification) Fee: £220.00 (incl. course materials & beverage)
The Self-Hypnosis Training Programme is designed for:-
Corporations in pursuit of increased productivity and everyone from Chief Executive Officers, stockbrokers, lawyers, entrepreneurs, athletes, top management, operations and marketing executives to middle management staff who seek excellence in their work and quality of life.
COURSE OBJECTIVE:-
Know the truth about the mind, how it works and what you can do to condition it to think in ways that will serve you best. You will identify the impacts of thoughts on mind and on the resulting achievements and failures in our lives. You will be better informed about the kind of ideas, thoughts and beliefs you need to implant in your mind to realize your life goals, and those you must repel.
You will understand how you can reprogram your mind to adapt to a positive habit pattern of thinking that will lead you to success. Understanding the inherent power within us as human beings to achieve our goals and the need to condition our minds to co-create a better condition to succeed in life, how the mind transforms our thoughts into reality. You will be taught how to systematically programme the subconscious mind in order to sustain motivation, and how to utilize the great powers of imagery and visualization when striving towards individual goals.
AIM:
To unleash the power of the sub-conscious mind.
Apply techniques of mind control and its reprogramming through self-hypnosis to change for the better.
Learn self-help to overcome - Bad Habits: Smoking, alcoholism, obesity, phobias and allergies negative attitudes, drug abuse and Stress Related Problems: Insomnia, depression, anxiety, anger tantrums, tension headaches, bereavement. Thus achieving greater confidence to perform better at both work and play.
The wholesome approach in psyching up a balanced perception of work attitude. Recognising the significance of a genuine love for work to make it more meaningful and enjoyable, culminating in satisfaction for both the worker and the corporation.
Adding a new meaning to cultivating a sense of pride in one's work thus enabling the achievement of new heights of successes.
COURSE CONTENTS:
History of Hypnotism
What is Hypnosis? Its Definition.
Quote the Uses of Hypnotism : Its Benefits
Letting Go towards Readiness for Change
Scientific Hypnotism, The Bodily Mechanism of Suggestion
Practical Exercises: Suggestibility Tests
Practical Session: Demonstration of Hypnotic Induction and Conditioning.
Hypnosis & Mind Exercises, The Mind & How it works
Practical Session: Hypnotising the Participants -Group Hypnotherapy:"Memory Retention of Lessons Learnt"
The Power of Hypnotism in a Child's Upbringing
Constructive Words
How parents program their children negatively
Five principles which ideas become fixed
Emotional factor
Diaphragmatic Breathing & Pendulum Exercise
Thought Manifestations as Auric Energy Fields measurable by the Divining/L-Rods.
Practical: Divining Rod Demonstration
Rules Of The Mind
The Power Of Suggestion Through Hypnosis
Goal Setting For Hypnotic Suggestion
Learning the Self Hypnosis Technique
Practical:- Guided Self-Hypnosis :"Group Hypnotherapy on Character Building"
Practical:- Applying the Self-Hypnosis Technique
Visualization Example & Food for Thoughts
Practical :- Guided self-hypnosis - exercises on visualization skills.
Practical Exam
DURATION: 2 days (9:00 am to 5:30 pm)
METHODOLOGY:
Intensive course with action packed demonstrations and hands on practicals. Highly participative with lectures, discussions, demonstrations, mind exercises, visualisation exercises, relaxation and breathing exercises, self-hypnosis exercises, slides and video presentation, Questions & Answers and practical exam.

Hypno-Motivation & Stress Management Courses for Corporations' Human Resource Training Department
(and in-house Training for companies).
Service Code: AD-03
MODULE II
Contribution: £200.00
2-DAY Stress Management Class
Course Title:-
"CONNECTING WITHIN TO WIPE OUT STRESS AND PERFORM BETTER"
PREAMBLE
Stress is the constant factor besieging almost every individual in our pressured and predominantly city-dwelling modern society. 'Stress' is the no. 1 enemy of health for it is indeed the root cause of psychosomatic problems which leads to physical diseases.
It can cause depression and sleepless nights, family tension and illnesses of every kind, even the most chronic and the fatal. Stress affects all of us, if not controlled, not only will it wreak havoc with our health but also our career! Recognizing this number one enemy, new-age management gurus had come out with a mushrooming potpouri of stress management courses over the last 2 decades, serving to recognize and arrest the issue, yet the problem is still very prevalent. This seminar is specially designed to identify the root cause of it and to use a systematic and practical approach to eliminate it, so as to perform better at both work and play.
OBJECTIVE
The objective of this seminar is serving to provide the true perspective of stress control, which can be easily approached and put into daily practice.
The secret of success in stress control lies in the technique of connecting within with the inner self.
Mobilizing the practice of 'letting go' or detachment constructively as a powerful form of stress release mechanism..
To enable participants to identify, acknowledge, control and reduce stress..
To provide the tools for relaxation in lowering stress levels for better performance.
COURSE CONTENTS:
What is stress? Studies and research
Stress and gender
The science of serenity
Managing stress
Identifying physical & psychological symptoms of stress
Over-work load stress
The stress of abusive relationships
Effects of thought on health and body
Conquering stress. How?
How to assess whether you are at the eustress or distress level?
Managing self
A master manager
Do you know stress can be good for you?
Helping yourself
Relaxation, the panacea of stress
Practical work - question and answer
DAY 1
| | |
| --- | --- |
| 09.00 AM - 09.15 AM | Introduction |
| 09.15 AM - 09.30 AM | What is Stress? Studies and Research |
| 09.30 AM - 09.45 AM | Stress and Gender |
| 09.45AM - 10.00 AM | The Science of Serenity |
| 10.00 AM - 10.30 AM | Coffee Break |
| 10.30 AM - 11.00 AM | Managing Stress |
| 11.00 AM - 12.00 NOON | Identifying Physical & Psychological Symptoms of Stress |
| 12.00 NOON - 01.00 PM | Lunch Break |
| 01.00 PM - 02.00 PM | Effects of Thought on Health & Body |
| 02.00 PM - 03.00 PM | Conquering Stress. How? |
| 03.00 PM - 03.30 PM | Tea Break |
| 03.30 PM - 04.00 PM | Continue - Conquering Stress |
| 04.00 PM - 05.00 PM | Question & Answer |
DAY 2
| | |
| --- | --- |
| 09.00 AM - 09.30 AM | Assessing The Eustress or Distress Level |
| 09.30 AM - 10.00 AM | Managing Self |
| 10.00 AM - 10.30 AM | Coffee Break |
| 10.30 AM - 11.00 AM | A Master Manager |
| 11.00 AM - 12.00 NOON | Do you know Stress can be good for you? |
| 12.00 NOON - 01.00 PM | Lunch Break |
| 01.00 PM - 02.00 PM | Helping Yourself |
| 02.00 PM - 03.00 PM | Relaxation - The Panacea of Stress |
| 03.00 PM - 03.30 PM | Tea Break |
| 03.30 PM - 04.00 PM | Relaxation Techniques |
| 04.00 PM - 05.00 PM | Practical Work, Q & A. & Certificates Presentation |
Click here for the Course Request Form