Self Hypnosis Course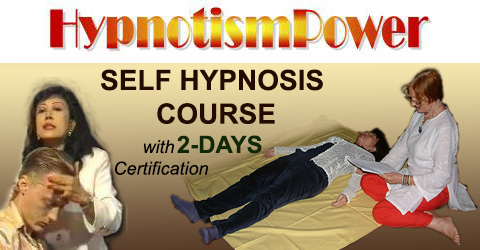 Reach out for some of the most powerful holistic self-healing tools! Learn Self Hypnosis in a power-packed 2-day event!
Ms. Goh teaches SELF-HELP in motivated self-directed change through proven techniques of Self-Hypnosis to diminish and eventually wipe out the following:-
| Bad Habits | Stress Related Problems |
| --- | --- |
| Smoking | Sleeplessness |
| Alcoholism | Depression |
| Obesity | Anxiety |
| Phobias/Allergies | Anger and Tantrums |
| Negative Attitudes | Head pains |
| Drug Abuse | Bereavement |
She trains participants to sustain motivation by systematically reprogramming the sub-conscious mind, utilizing the great powers of suggestion and imagery to achieve individual goals. Maximize your strengths to achieve full potential!
HYPNOTISMPOWER.COM'S UNIQUE 2-DAY SELF-HYPNOSIS TRAINING COURSE
Training Venue: Rivercourt Methodist Church, King Street, Hammersmith, London W6 9JT (Nearest tubes are: 3 mins. walk from Ravenscourt Park tube station, 10mins from Hammersmith tube station)
Date: Weekend: TBA, based on response for class quorum. Please know that you have to request for the courses and workshops first!

No request, no events!
Day and Time: Saturday: 10am-6pm Sunday: 1pm-9pm (16hrs CEUs course with certification) Fee: £220.00 (incl. course materials & beverage)
COURSE OBJECTIVE
Know the truth about the mind, how it works and what you can do to condition it to think in ways that will serve you best. You will identify the impacts of thoughts on mind and on the resulting achievements and failures in our lives. You will be better informed about the kind of ideas, thoughts and beliefs you need to implant in your mind to realize your life goals, and those you must repel. You will understand how you can reprogram your mind to adapt to a positive habit pattern of thinking that will lead you to success. Understanding the inherent power within us as human beings to achieve our goals and the need to condition our minds to co-create a better condition to succeed in life, how the mind transforms our thoughts into reality. You will be taught how to systematically programme the subconscious mind in order to sustain motivation, and how to utilize the great powers of imagery and visualization when striving towards individual goals.
AIM: To unleash the power of the sub-conscious mind Apply techniques of mind control and its reprogramming through self-hypnosis to change for the better
Learn self-help to eliminate:- Bad Habits: Smoking, alcoholism, obesity, phobias and allergies negative attitudes, drug abuse. Stress Related Problems: Insomnia, depression, anxiety, anger tantrums, tension headaches, bereavement. Thus achieving greater confidence to perform better at both work and play.
COURSE CONTENTS
History of Hypnotism
What is Hypnosis? Its Definition.
Quote the Uses of Hypnotism : Its Benefits
Letting Go towards Readiness for Change
Scientific Hypnotism, The Bodily Mechanism of Suggestion
Practical Exercises: Suggestibility Tests
Practical Session: Demonstration of Hypnotic Induction and Conditioning.
Hypnosis & Mind Exercises, The Mind & How it works
Practical Session: Hypnotising the Participants
Group Hypnotherapy : "Memory Retention of Lessons Learnt "
The Power of Hypnotism in a Child's Upbringing
Constructive Words
How parents program their children negatively
Five principles which ideas become fixed
Emotional factor
Diaphragmatic Breathing & Pendulum Exercise. Thought Manifestations as Auric Energy Fields measurable by the Divining/L-Rods. Practical: Divining Rod Demonstration. Rules Of The Mind. The Power Of Suggestion Through Hypnosis. Goal Setting For Hypnotic Suggestion. Learning the Self Hypnosis Technique. Practical:- Guided Self-Hypnosis :"Group Hypnotherapy on Character Building". Practical:- Applying the Self-Hypnosis Technique. Visualization Example & Food for Thoughts. Practical :- Guided self-hypnosis - exercises on visualization skills.. Practical Exam
To reserve your place on this dynamic self-hypnosis weekend workshop please click on